Biden Taps Harris to Lead Administration's Effort to Protect Voting Rights
Biden Taps Harris to Lead Administration's Effort to Protect Voting Rights
Biden condemned as "un-American" Republican-led efforts to place new limits on elections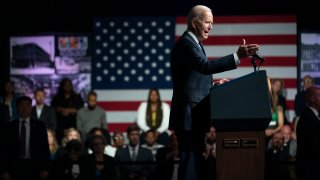 President Joe Biden said Tuesday that Vice President Kamala Harris will lead the administration's push to protect voting rights as federal election reform legislation faces steep hurdles in a closely divided Senate.
Biden, during remarks commemorating the Tulsa, Oklahoma, race massacre, said that with Harris in charge, voting reforms would "address what remains on the stained soul of America."
"With her leadership, and your support, we're going to overcome again," he said, speaking to community leaders and survivors on the 100-year anniversary of the bloody attack on the city's Black residents.
The Biden Administration
President Joseph Robinette Biden Jr. and his administration
Harris said she will work with organizations and lawmakers on the high-profile issue.
Biden condemned as "un-American" Republican-led efforts to place new limits on elections after President Donald Trump's defeat, especially in Texas, where Democrats staged a walkout over the weekend to effectively kill a restrictive voting bill.