Clyburn's Role in South Carolina Redistricting May Be Examined as Supreme Court Hears Racial Gerrymandering Case
The Supreme Court said Monday that it will hear oral arguments in a South Carolina redistricting case where the NAACP is challenging the state's Republican plan as racially motivated.
The role of the state's most powerful Democrat, U.S. Rep. James Clyburn, is likely to play an important part in the discussions, legal experts said.
In 2021, South Carolina Republicans reshaped the voting map, taking a district that had been in the hands of a Democrat as recently as 2018 and making it a much safer seat for the incumbent Republican. The NAACP brought a suit against the effort, and in January, three Democratic-appointed judges ruled in the group's favor.
The Supreme Court could decide to restore the map that the Republicans drew or order the legislature to create a new map. The case comes after a series of rulings from the high court that have made partisan gerrymandering easier, though the court has still deemed redistricting predominantly based on race to be illegal. Legal experts said this week that the South Carolina case will help define the limits of how much a legislature can consider race as it draws new maps.
South Carolina Republicans have defended their efforts, saying they were not motivated to dilute Black political power in the state. Lawyers for state Republican leaders argued during the trial that they did not consider race in making their map. They also contended that their map could not have targeted Black voters because they worked with Clyburn, one of the most powerful Black Democrats in the country.
This month, ProPublica added new detail to this account, reporting that Clyburn had been more involved in the process than previously known. He recommended moving Black and white voters in such a way that made his district politically safer but hurt Black Democrats.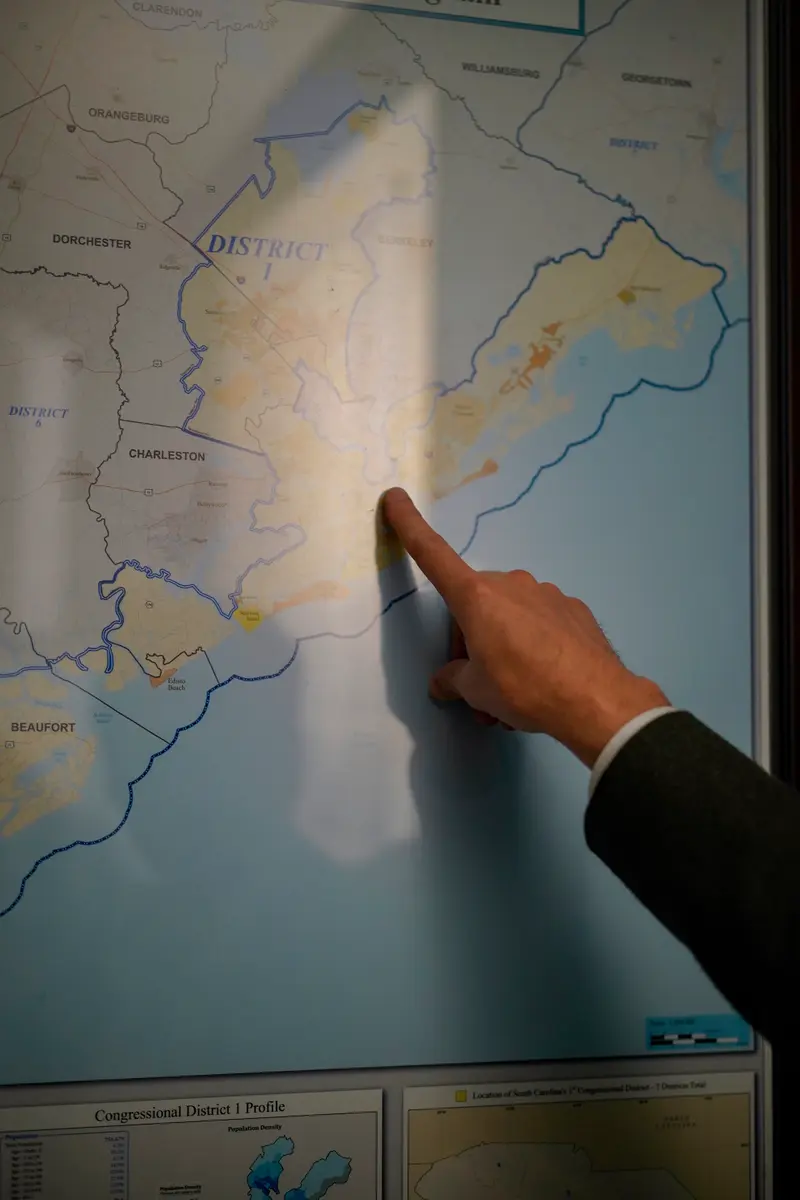 Clyburn's role could be an important underlying factor for the court, according to legal experts following the case.
"The court likely will get into the details of South Carolina redistricting, including the role played by Rep. Clyburn, because all this information is potentially relevant to whether racial or partisan factors predominantly explain" a district's design, said Nicholas O. Stephanopoulos, an election and constitutional law professor at Harvard Law School.
Clyburn's recommendations for how his district map should be drawn are "potentially relevant" as the court weighs the three-judge panel's decision that the Republican-led legislature predominantly used race to create the maps, said Justin Levitt, an election law expert at Loyola Law School. Clyburn's role has already complicated the NAACP's case. The appellate panel threw out some of the racial gerrymandering allegations, partly because Clyburn's office had recommended the changes. Nevertheless, it found that the new map of the coastal 1st, which had been the swing district, was an illegal racial gerrymander that deliberately targeted Black Democrats and moved most of them into Clyburn's district, the 6th.
Court documents and testimony showed that Clyburn, who had no official role in the redistricting, submitted a confidential hand-drawn map that Republican lawmakers said they used as their starting point. None of his requests were made public.
Clyburn's recommendations sought to move about 85,000 people into the majority-Black 6th District to make up for a population deficit. His map also moved some white Republican-leaning residents out of his district into the 1st, currently represented by the Republican Nancy Mace. Under the redistricting plan, each of the state's seven congressional districts had to represent 731,203 people.
Clyburn's office declined to answer specific questions about his requests and said his only input was responding to legislative inquiries. Clyburn said in an interview that he did not get everything he wanted in the plan passed by the legislature, mainly because it lowered the Black voting age population in his district to under 50%. Maintaining a majority-Black district had been important to Clyburn, who was elected in 1992 and rose to become one of the most prominent Democrats in the House.
Clyburn's office said he opposes the Republican map and hopes the decision of the three-judge panel will be upheld.
The Supreme Court has pending decisions on several other important redistricting cases, including an Alabama racial gerrymandering case that addresses whether legislatures in states with high Black populations have an obligation to draw more majority Black districts.
Richard Pildes, a constitutional law professor at New York University School of Law, said the court generally accepts findings of fact from a three-judge panel unless it concludes they are "clearly erroneous." In that case, he said, it will look more deeply into the court record and question parties at oral arguments.
Joshua Douglas, an election law and voting rights expert at J. David Rosenberg College of Law at the University of Kentucky, said the South Carolina case is significant because it "involves the interplay of race and politics."
"The legislature says it was trying to achieve a partisan result, not a racial result. The court had previously said a legislature cannot hide behind politics to justify a racial gerrymander. It's possible the court will use this case to reevaluate that rule," Douglas said.
Republican lawyers have asked the Supreme Court to render an early decision in the case because it may require new maps that could impact congressional races in 2024.