Hard-Right Republicans Forming New Caucus to Protect 'Anglo-Saxon Political Traditions'
Hard-Right Republicans Forming New Caucus to Protect 'Anglo-Saxon Political Traditions'
Rep. Marjorie Taylor Greene is said to be involved with the effort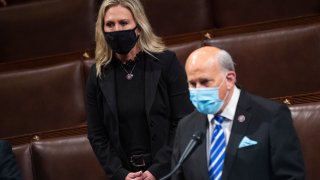 A group of ultra-conservative House Republicans, including Rep. Marjorie Taylor Greene, R-Ga., are discussing launching an "America First Caucus" that would protect "Anglo-Saxon political traditions."
Rep. Louie Gohmert, R-Texas, told reporters Friday that he's "looking at" joining.
"There is an America First Caucus," he said, confirming that Greene is involved.
Politics
Local, state and national politics
The formation of a caucus could be another sign of an emboldened faction of House Republicans who are known for nativist ideas and have been criticized by Democrats as racist.
A seven-page organizing document that includes the group's name and a logo, first reported by Punchbowl News, says: "America is a nation with a border, and a culture, strengthened by a common respect for uniquely Anglo-Saxon political traditions."