One Woman Died on an Alaska Mayor's Property. Then Another. No One Has Ever Been Charged.
This story details allegations of violence against Indigenous women and girls.
KOTZEBUE, Alaska — On a subzero Monday morning in March 2020, police found another woman dead at the ex-mayor's property.
Two years earlier, the body of 25-year-old Jennifer Kirk lay curled at the foot of a bed, a rifle on the floor, strangulation marks on her neck and a bullet hole beneath her chin. City police swiftly closed the case, declaring it a suicide.
Now police were back at the property, where the lifeless body of Susanna "Sue Sue" Norton, 30, was discovered in an adjacent house, beaten and strangled. An autopsy determined the cause of death to be homicide.
Kirk and Norton, both Inupiaq, had each dated sons of the former borough mayor, and the sons had previously been convicted of beating each of them. One of the sons had admitted to strangling Kirk twice before. Another pleaded guilty to kicking Norton in the stomach when she was six months pregnant.
No one has ever been charged with a crime in connection to the deaths.
In a state where women are 2.5 times more likely than the national average to be killed by a man and Alaska Native women are especially at risk, elected leaders here have repeatedly pledged action. The Department of Justice declared a rural law enforcement emergency in Alaska following a 2019 report by the Anchorage Daily News and ProPublica on glaring lapses in local policing. Two years later, the governor created a state council on Missing and Murdered Indigenous Persons, and in 2022, new investigators were hired to solve cases like Norton's.
Unexplained holes in the investigations into the deaths of Kirk and Norton call into question this commitment, a review by the Anchorage Daily News and ProPublica found. More than that, the events leading up to the women's deaths illustrate how police, prosecutors and judges here have regularly given pass after pass to people accused of domestic violence and strangulation.
Police records obtained by the newsrooms show that Kirk's body revealed signs of strangulation. Her boyfriend, Anthony Richards, son of then-Mayor Clement Richards Sr., admitted to police that he had caused the marks on the day she died. After reviewing the records, former Kotzebue Police Chief Ed Ward said the 10 red flags that the Training Institute on Strangulation Prevention instructs police to look for in cases of domestic violence killings all appeared to apply to the scene of Kirk's death. (Ward did not work at the police department at the time of her death.)
Yet the Kotzebue Police Department closed the case after a single day of investigation, labeling it a suicide before receiving the final autopsy report.
In Norton's case, police never told her family she had been strangled, family members said. Police didn't ask the public to help catch the suspect, as they had the prior year when a fire department dog was killed in the same neighborhood. They never interviewed key witnesses and failed to obtain a search warrant, leaving evidence uncollected.
State troopers, who took over the investigation into Norton's death in 2022, told her family they planned to travel to Kotzebue over the summer to investigate further. Norton's family says that didn't happen either. (A department spokesperson said on Oct. 27 that investigators had not yet visited Kotzebue for the case but planned to do so before the end of the year. He said the agency's Missing and Murdered Indigenous Persons unit is "taking investigative steps with the goal of finding the person responsible for Sue Sue's tragic death and holding that person responsible for their actions through the criminal justice system.")
Both Kirk and Norton had been victims of domestic violence at the hands of two of the Richards brothers. The Daily News and ProPublica found that state prosecutors repeatedly allowed the men to avoid felony domestic violence convictions for strangling or beating women, including Kirk and Norton. In those cases, the state offered the sons deals, allowing them to plead guilty to reduced misdemeanor charges such as "harassment" and receive slaps on the wrist, not prison sentences.
In one sexual assault case involving a different woman, state Superior Court Judge Paul Roetman granted Anthony Richards, the mayor's youngest son, uncommonly low bail. Roetman explained his decision by saying he had worked with Anthony's mother and knew his father held elected office.
Roetman and two prosecutors, now a magistrate and judge, declined to comment through a court system spokesperson. "Judicial officers cannot and do not comment on their cases, in order to maintain the integrity of their decisions and to ensure that, for fairness reasons, their thinking is reflected solely in the official court record without extraneous commentary," the spokesperson wrote.
In the center of Kotzebue, Norton's adoptive mother, Susanna "Mama Sue" Norton, is waiting for answers from Alaska's criminal justice system. She lives three doors down from the house where her daughter was found strangled to death.
"My family is not going to have peace until they know that they found someone that did this to her," she said in an interview in 2020. Three years later, as another winter begins, the case grows colder by the day.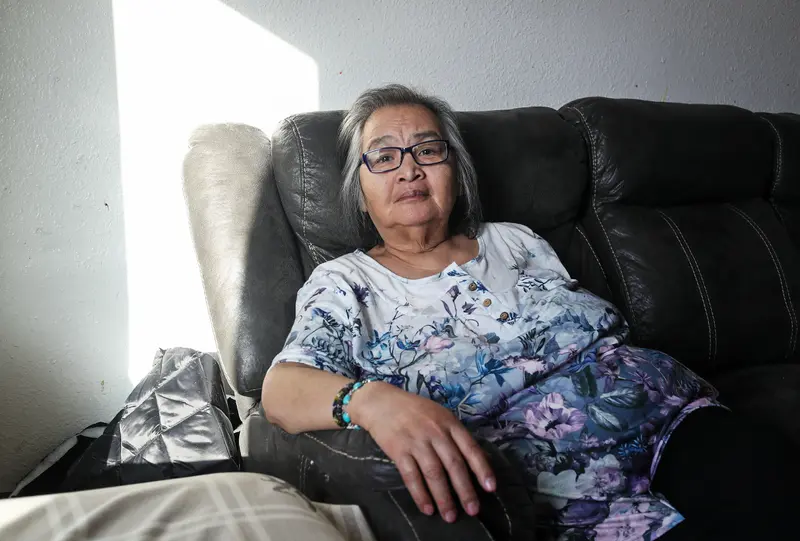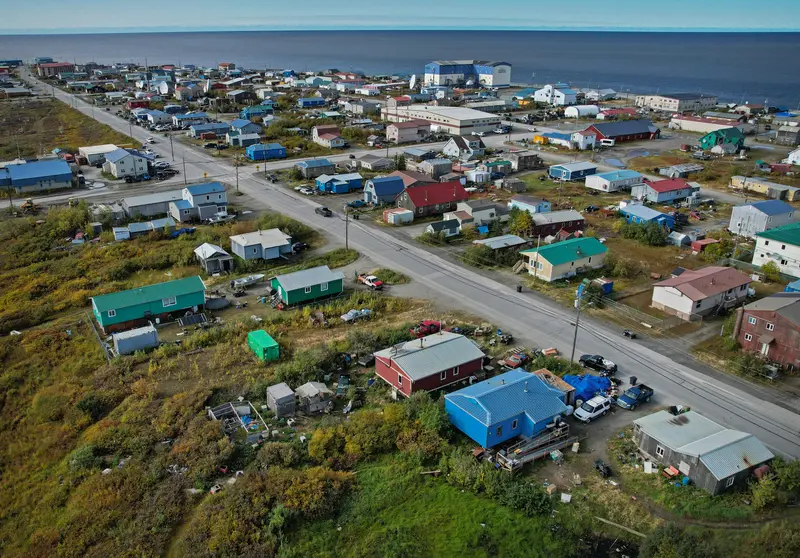 A History of Criminal Charges
Kotzebue lies just above the Arctic Circle on a frying-pan-shaped peninsula, nearer to Russia than to Anchorage. Clement Richards Sr. was born here in 1961, two years after Alaska became a state. The city sold itself back then as the Polar Bear Capital of the World, where small planes carrying trophy hunters from across the globe parked on the sea ice. (One of the largest polar bears ever recorded was hunted here in 1963.)
In the 1970s, geologists confirmed what a local bush pilot long suspected: The red-stained creeks that veined the tundra hinted at a massive mineral deposit. In the '80s, Kotzebue and surrounding villages voted to create a new Northwest Arctic Borough government, with the second-largest zinc mine in the world funding public services such as search and rescue.
Meantime, Clement Richards Sr. and Annette Richards were busy growing their family. The couple had two sons, Amos and Clement Jr., and another on the way in May 1989 when Clement Sr. kicked Annette in the stomach, according to charges filed in Kotzebue state Superior Court. Clement Sr. had previously struck her, Annette wrote in an earlier restraining order request. This time she was eight months pregnant.
The charges say Annette was "bleeding profusely from her genital area." The couple's third son, Anthony, was born the next day.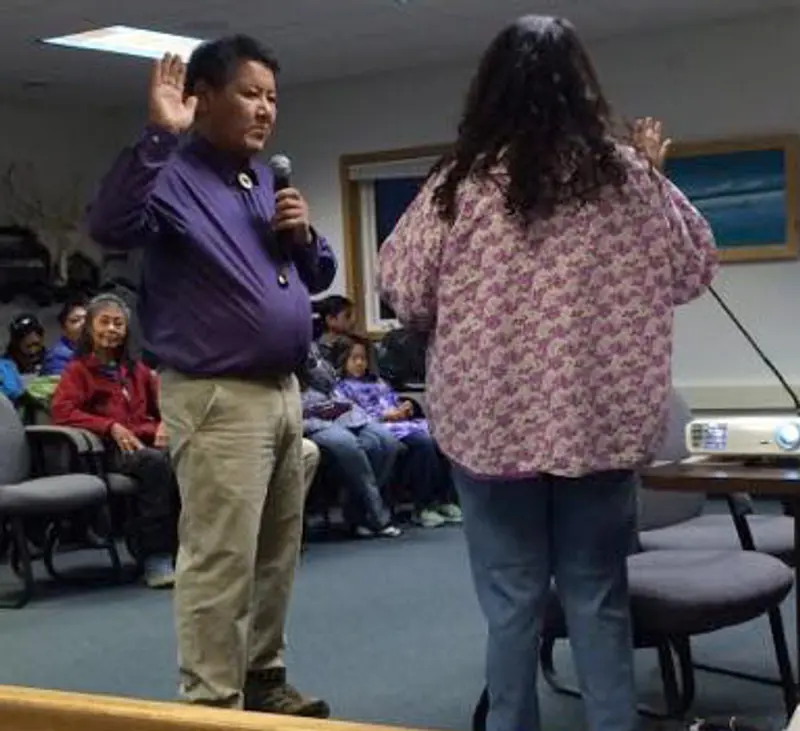 Clement Sr. pleaded no contest to felony domestic violence assault and received a six-month jail sentence. The conviction wasn't mentioned by his opponents or the media a decade later when he won a seat on the city council in 1999 or still later when he became the city's vice mayor, then mayor. Annette began working in a local office for the Alaska State Troopers where her duties involved assisting state prosecutors, including one who later served as the judge in domestic violence cases against her sons.
The sons wrestled in high school, competed in fishing derbies and sometimes worked at the nearby zinc mine. Now 34, 37 and 39, all three have listed the former mayor's property as their home address for most of their adult lives.
All three sons have been charged with assaulting women at the mayor's property but dodged serious punishment.
The Daily News and ProPublica reviewed 31 criminal court cases involving the three sons, including more than 800 pages of charging documents, testimony, sentencing orders and protective order requests. In 12 of those cases, one of the sons was charged with committing domestic violence. The victims — six different women — included the sons' relatives and current and ex-girlfriends, including Kirk and Norton. (The other criminal cases involved driving while intoxicated, indecent exposure and trespassing.)
Seven of these domestic violence cases were filed while Clement Sr. held political office, from 1999 to 2018. All told, the three sons have been charged with a combined 16 counts of domestic violence, including five felonies. Yet none of the charges against them resulted in a felony domestic violence conviction.
While the details in each case differ, seven of the domestic violence cases unfolded in familiar ways:
First, one of the girlfriends or a worried neighbor called the Kotzebue police. Officers arrived to find the victim with visible wounds such as bruises, markings on her neck or a bloody nose. The girlfriend told police one of the sons punched, kicked or strangled her.
She told police the attacks began when she tried to stop the son from drinking, attempted to leave the house or refused sex. In two cases, police noted the mayor or his wife refused to cooperate with the active investigation. The Kotzebue Police Department then arrested the son but usually labeled the attack as a low-level misdemeanor rather than felony assault.
Next, the son appeared before a local judge or magistrate who was sometimes a former state prosecutor who had worked alongside the ex-mayor's wife. The judge or magistrate agreed to set bail for the son — once even acknowledging on the record that the bail was unusually low and telling the victim that the mayor and his wife would help keep the son out of trouble until the trial.
But the cases never made it to trial. They were settled at a change-of-plea hearing where prosecutors dropped any felony charges and the son promised to do better. Within a few months, maybe a year, the cycle would begin again.
In one 2013 case, a woman said Clement Richards Jr. punched her in the face and police filed a charge of domestic violence assault. Clement Jr. eventually pleaded guilty to harassment and received a suspended sentence, scrubbing his conviction from the public record. In a sexual assault case filed the following year against Anthony Richards, Roetman reduced Anthony's bail from $7,500 to $2,500 over the protests of the victim, who said in a quaking voice that she feared running into Anthony in the town of 2,900.
"I know Mrs. Richards from when she used to work for the troopers," Roetman said at Anthony's bail hearing. "She has a lot of experience with these types of cases and knows what these are like."
The Alaska Judicial Code of Conduct states that a judge "shall not allow family, social, political, or other relationships to influence the judge's judicial conduct or judgment." Roetman did not respond to questions about his remarks in court, his work relationship with Annette Richards or the cases he presided over involving her sons. A court system spokesperson provided the newsrooms with a statement saying "judicial officers cannot and do not comment on their cases."
Although a Kotzebue grand jury indicted him on felony charges of sexual assault and attempted sexual assault, Anthony Richards eventually pleaded guilty to a single misdemeanor count of indecent exposure in the 2014 case. The deal allowed him to avoid registering as a sex offender. (The prosecutor, Rachel Ahrens, is now a state superior court judge and declined to comment through a court system spokesperson.)
"To say that you dodged a bullet is probably an understatement on this one," Roetman told him at the change-of-plea hearing.
Increasingly Dangerous Attacks
Clement Richards Sr. won election as Northwest Arctic Borough mayor in November 2015, campaigning on his experience leading the city and his bona fides as a born-and-raised son of Kotzebue. He became chief executive of a region the size of Indiana with a population of about 7,500. As climate change threatened the nearby village of Kivalina, the Northwest Arctic moved into the national spotlight.
"What's happening here is America's wake-up call," then-President Barack Obama said after flying over the village and touring Kotzebue just before Richards was elected in 2015.
Clement Sr. had been in office just a month when Kirk showed up at the local hospital. She told police that Anthony had punched her five times.
Kirk grew up in the village of Buckland, 75 miles outside of Kotzebue. She and Anthony sometimes lived in one of two teal homes that Clement Sr. and Annette Richards own on a grassy lot, one block from the police department and City Hall. Officer Nate Lecours came to the property to investigate the beating.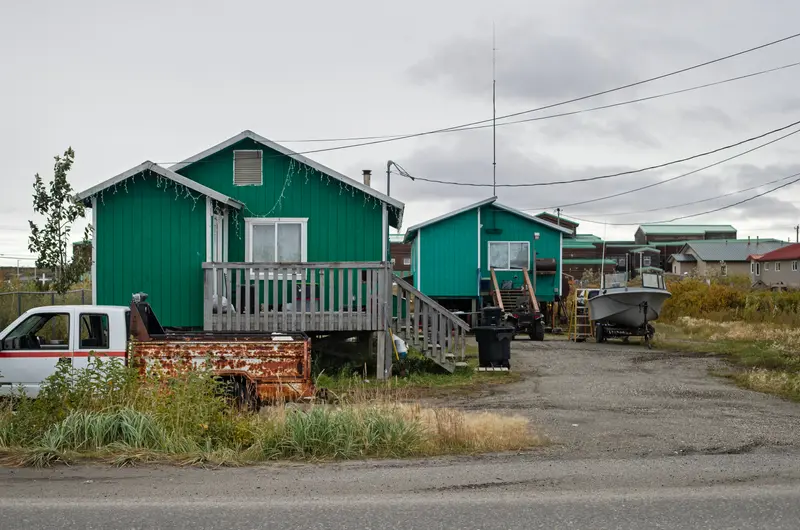 "Upon arrival the Borough Mayor, Clement Richards, who appeared extremely intoxicated, answered the door and stated how can I help you a total of three times speaking over me then slammed the door in my face," Lecours wrote in a Dec. 6, 2015, affidavit. (In a brief phone interview, Lecours said he remembered that encounter but no longer works for Kotzebue police and referred all questions to the department.)
A few days later, Magistrate Judge Stephan Brady reduced Anthony's bail in this new assault case to just $100. (Brady no longer works for the state. He did not respond to phone messages or emails.)
As the years passed, the attacks grew more dangerous. On March 14, 2017, Kirk told police Anthony strangled her until her field of vision began to shrink and she nearly passed out.
That would have been enough, under a 2005 Alaska law, to charge him with a felony for nonfatal strangulation. Alaska was one of the first states to recognize that strangulation is often a precursor to homicide and increases suicide risk, according to the Training Institute on Strangulation Prevention.
The prosecutor, Ahrens, allowed Anthony to plead guilty to a single count of misdemeanor assault.
Despite the light punishment, Magistrate Judge Aaron Michels warned Anthony he could have killed Kirk that day.
"Strangulation is a very serious thing and it's recognized that way by the Legislature, that's why these types of cases can be charged as felonies," Michels said at an October 2017 change-of-plea hearing. (He declined to comment through a court system spokesperson.)
"The result of strangulation — if it's not stopped, if a person can't breathe — is death," the magistrate told Anthony Richards.
On May 23, 2018, Kirk and Anthony's final argument began on the mayor's property.
Alerted by a neighbor, two officers came to the house around 6 p.m. They found Anthony in the bedroom holding Jennifer Kirk's body, according to police records, his hands and clothes coated in blood.
Anthony told police he had been watching TV with two children in the living room when he heard the pop of a gunshot and discovered Kirk dying on the floor. A .22-caliber rifle lay across her feet and a gunshot wound pierced the underside of her chin.
The police department's investigator at the time, Thomas Milliette, measured the weapon.
"I noted the length of the rifle from the tip of the barrel to the tip of the trigger as being 27 1/8 inches long," Milliette wrote in his report. Next he measured the length of Kirk's arm: 26 3/18 inches. In interviews, members of Kirk's family wondered how Kirk, who was 5 feet, 5 inches tall, could have shot herself with a long gun.
Robert Shem, a retired firearm expert for the state crime laboratory, said in an interview that such measurements can be useful in determining whether a death is indeed a suicide, but in this case, more information would be needed. (Shem was the forensic scientist who first established a link among the shooting victims of Alaska serial killer James Dale Ritchie in 2016.)
"Before I would write it off as a suicide myself," he said, "I would probably try to locate somebody of the same size and build and use that rifle, or one similar to it, with the same length barrel and configuration, demonstrate that it's completely unloaded and see if the person can lean over and potentially get their thumb in position to pull the trigger."
Kirk's father, Timothy Gavin, said Kirk gave no hints she might kill herself.
"We never seen that in her. No signs, nothing," Gavin said. "So it's hard to believe she did that to herself."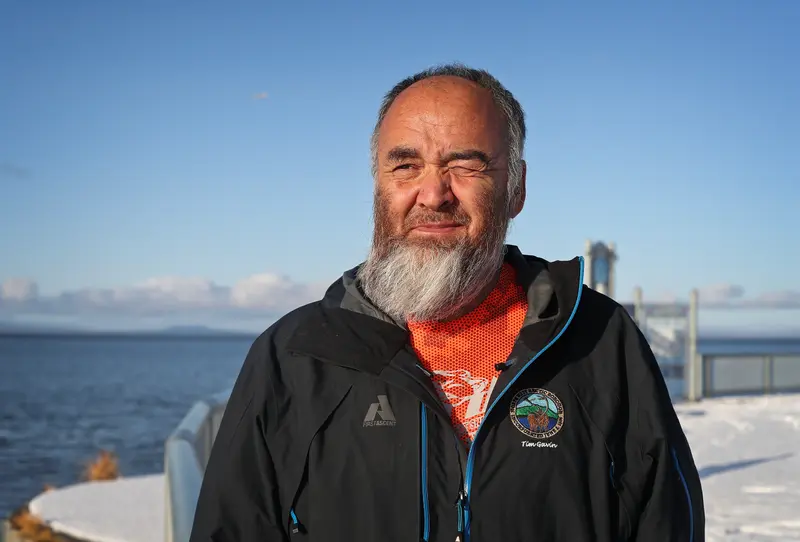 Gavin knows something about policing and public service. A Buckland city councilmember and the former mayor, he served 11 years as a village police officer. He's also no stranger to gunshot deaths. His stepfather shot and killed his mother, Kirk's grandmother. (The stepfather was convicted of manslaughter and sentenced to prison.)
Kirk's mother, Dora Stalker, chatted with her daughter hours before the shooting and recalls that nothing seemed amiss. They even made plans. "She was trying to ask me to send diapers for her daughter," Stalker said.
"We kind of had a plan to send each other some Native foods," Stalker said. Kirk would trade her mother beluga muktuk in exchange for springtime smelt from Buckland.
Two days after Kirk's death, the state medical examiner's office phoned Kotzebue police and said her body "showed signs of strangulation," according to the death investigation report compiled by police and obtained through a public records request.
In his first interviews with police, Anthony had not revealed that he and Kirk violently fought before she died. Once Milliette knew about the strangulation marks, Anthony admitted to causing the injuries to her neck. He said he acted in self-defense.
Anthony said Kirk slapped him and he "held her away by the neck and didn't know how hard he was squeezing," according to the police report. Anthony said Kirk continued to slap him so he pushed her to the ground, twice. He said he didn't know if he knocked her unconscious.
Milliette closed the case after one day of investigation. He concluded his report with a note that the medical examiner's office had called again and said Kirk's death would be ruled a suicide, with the final autopsy findings to be sent to Kotzebue police when finished. Kirk's mother, Stalker, said police never interviewed her or asked her what her daughter had said to her the day she died.
"They should have investigated a lot better, a lot more thorough before they said it was a suicide," Stalker said. "It's like they just rush and do whatever to get it over with."
The Kotzebue Police Department did not answer certain questions about the death investigation, including any about what conclusions Milliette drew from the rifle measurements, referring questions to the former police chief. Milliette did not respond to interview requests. The Alaska Department of Law, which oversees state prosecutors, did not answer questions about why no charges were filed in the case.
"I would have prosecuted him for the strangulation before she died," said Casey Gwinn, a former prosecutor and president of the Training Institute on Strangulation Prevention.
A Missing 10-Year-Old Girl
Kirk's death never made the news. Three months passed and the city of Kotzebue, along with the rest of Alaska, became absorbed with the case of a missing child. In this time of crisis, everyone turned to Mayor Clement Richards Sr.
Hundreds of volunteers hunted for 10-year-old Ashley Johnson-Barr, who disappeared in September 2018 from a playground at the center of town. The Northwest Arctic Borough Assembly chambers, adorned with antlers and a scrimshaw walrus tusk, served as the nerve center for the search with Clement Sr. acting as spokesperson.
"We're a small community where everyone knows everyone, so we're trying as hard as we can to find her," Clement Sr. told the Daily News at the time.
"I'm deeply concerned she hasn't been found yet," he said, explaining that as many as 50 people were looking for the child at any one time. Norton joined in, her family said, cooking her best-loved food, caribou stew with pilot bread crackers, to feed fellow searchers.
After eight days, a volunteer spotted Johnson-Barr's body in a brushy hollow outside the city. Federal investigators and state troopers raced to Kotzebue to aid local police and soon arrested a 41-year-old man for her death by strangulation. To solve the case, law enforcement used cellphone location data, DNA evidence, search warrants, surveillance video and the advantage of the FBI, who first arrested the suspect on grounds of lying to a federal officer. The killer, Peter Wilson, pleaded guilty to first-degree murder and first-degree sexual abuse of a minor and is serving life in prison.
The response shows how cases involving missing and murdered Indigenous people can be solved when they are immediately prioritized by local authorities and when state and federal agencies give assistance. The state declared an annual Ashley Johnson-Barr Day and hired a retired Kotzebue-area trooper, Alaska Native Anne Sears, as Alaska's first full-time Missing and Murdered Indigenous People investigator.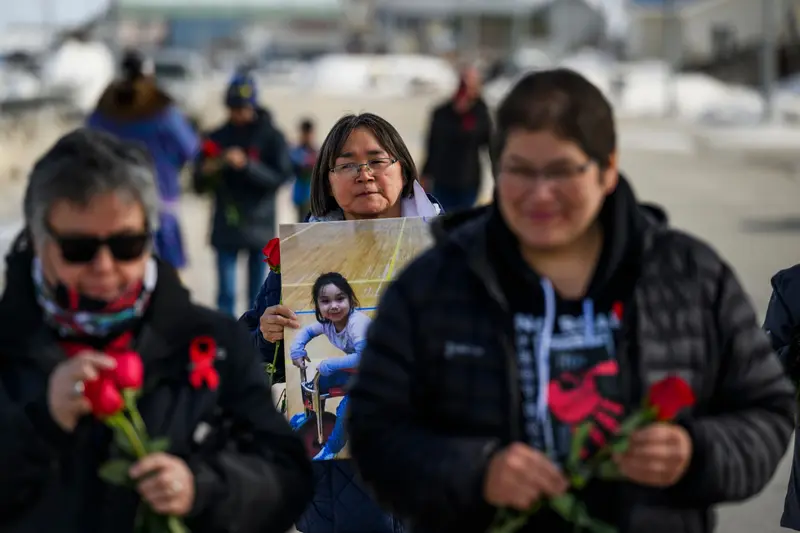 The message: Alaska would no longer tolerate the rape and killing of Indigenous women and girls.
But as the mayor prepared to leave office, nothing appeared to change for his sons. On Nov. 17, 2018, two months after Johnson-Barr was found dead, Kotzebue police received yet another report of domestic violence.
This time the victim was Norton, who by then was six months pregnant. Police found her crying, her right eye swollen shut. She said she had tried to stop her boyfriend, Amos Richards, from drinking by pouring out his beer.
City police Sgt. Norman Hughes described the attack in a report: "Susanna said the defendant became angry and grabbed her by the hair and drug her around the house. Susanna said the defendant kicked her repeatedly in the head, face, stomach and back. Susanna showed me her forearms which were swollen and told me she was holding her arms up to protect her head when the defendant was kicking her."
Hughes categorized the beating in a criminal complaint filed in state court as misdemeanor, fourth-degree assault, the least serious form of assault spelled out by state law. (Hughes did not respond to interview requests or written questions.)
According to medical records, Norton flew to Anchorage, where her baby was born two weeks later at the Providence Alaska Medical Center. Doctors noted she had suffered "premature rupture of membranes." Her family said the trip to Anchorage was medically necessary and believe the premature birth was brought on by the attack.
The baby weighed 3.1 pounds. Norton named her Eden.
"She is a tough baby girl," Norton posted that day to friends and family. "Please remember us in your prayers."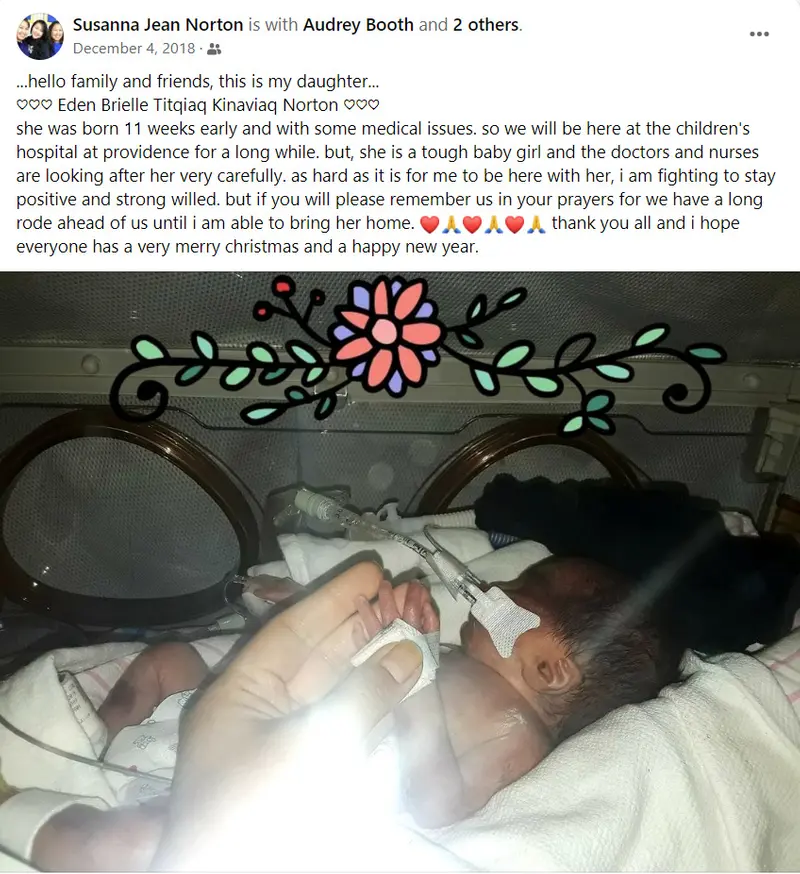 Doctors recommended the baby stay in Anchorage, even after leaving the hospital, because Eden had health problems unrelated to the premature birth and needed surgery to survive. Mama Sue Norton said the Office of Children's Services became involved and planned to temporarily place Eden with a foster family so she could be closer to medical care.
Sue Sue sang to the baby in Inupiaq over FaceTime, said Lesley and Joel Sundberg, a foster family who housed Eden after she left the hospital and have since adopted her. Amos, for a time, frequently texted the foster parents to ask how Eden was feeling and discuss the upcoming adoption.
Up in Kotzebue, a new strangulation case captured the attention of City Hall and local police. Authorities did not hesitate to seek the public's help.
"The Kotzebue Police Department suspects foul play and is pursuing all investigative leads," said Milliette, the investigator who had closed Kirk's case without an arrest the year before. By this time, he had become chief of police. Volunteers raised thousands of dollars in reward money and the story made statewide news for days. After police released a surveillance photo of the suspect, a tipster came forward and identified the killer, who pleaded guilty to a felony in Roetman's courtroom.
The victim was a dog: the city fire department's pet husky.
A Second Death
On Jan. 19, 2020, Norton changed her Facebook profile photo to display a red handprint across her closed mouth, the symbol of the Missing and Murdered Indigenous Women movement.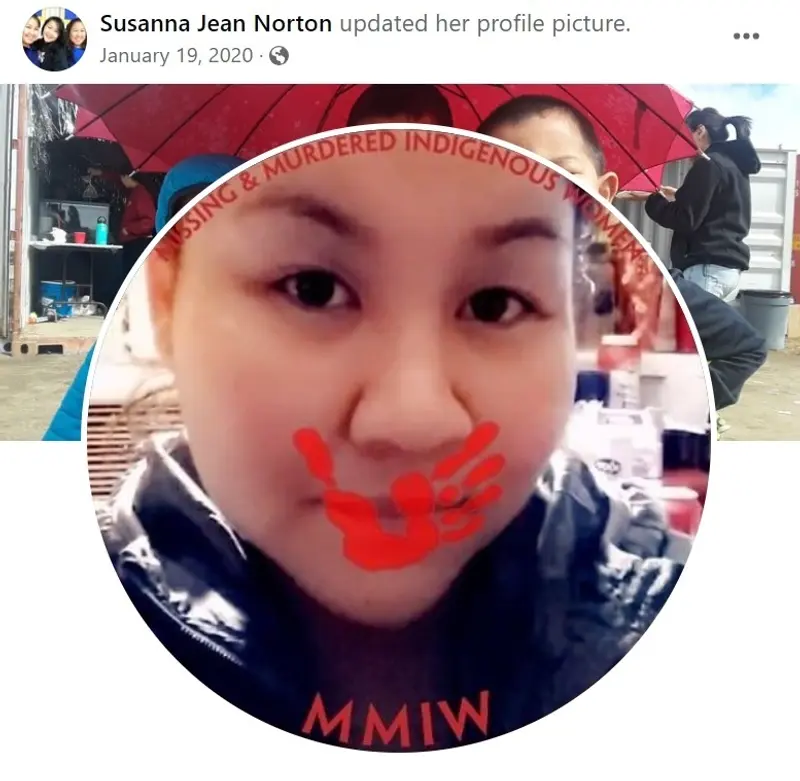 A few days later, Amos Richards appeared in court to face charges for kicking Norton while she was six months pregnant. Once again the magistrate was Michels, who approved a deal that allowed Amos to plead guilty to a single count of "reckless endangerment."
Despite the plea, Norton and Amos made plans to fly to Anchorage to finalize adoption paperwork.
"I cant tell if she has me or Amos's eyes," Norton wrote on Jan. 30, 2020, after seeing the latest picture of Eden at the hospital. She sent the Sundbergs a selfie of her and Amos, heads together, to show the baby.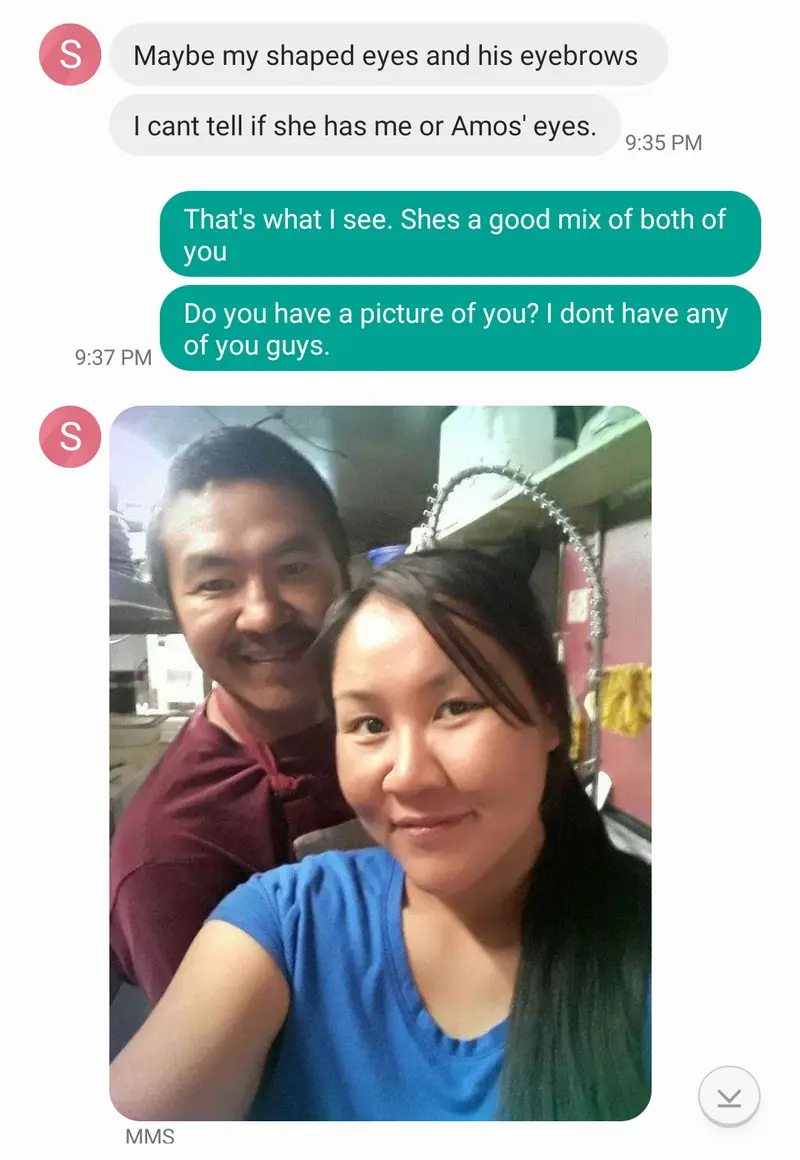 Like Kirk, Norton was a Leo. (Although born years apart, Kirk and Norton shared the same Aug. 21 birthday.) Norton had a habit of cracking her knuckles and dreamed of one day taking a Caribbean cruise. Her biggest fear, she once wrote, was losing her children.
Her mother remembers her, most of all, as a helper. The last time the whole Norton family gathered with Sue Sue, she sat on a square of cardboard on the tiled floor, separating the hide from the marbled meat of a freshly killed caribou.
Five days before Norton and Amos were to sign adoption papers, Amos stopped responding to texts from the adopting family.
The timeline of Norton's last week alive is muddled by conflicting evidence. In a 2020 email to the Daily News and ProPublica, Kotzebue police estimated her date of death as March 5 or 6. But Norton's sister, Vera Norton, said Sue Sue helped family prepare a caribou on March 7 or 8.
At 8:32 a.m. on March 9, police were called to the former mayor's house, where they found Norton's body, her head covered by a jacket.
Outside, the temperature fell to 13 below. Here above the Arctic Circle, graves must be carved into the icy soil and permafrost, and as Vera Norton was leaving home to look for a burial site, she saw police placing Amos into a patrol car.
Hughes later told Sundberg that police were unable to collect certain evidence. Asked to clarify by ProPublica and the Daily News, Kotzebue Police Chief Roger Rouse said in an email that Hughes had been referring to "the rejection of a search warrant from the judge in regard to some evidence." The police chief would not say which judge he was referring to.
Amos skipped the funeral.
Mama Sue Norton said police never spoke to her about the case. She first learned the official cause of her daughter's death was homicide when a death certificate arrived in the mail.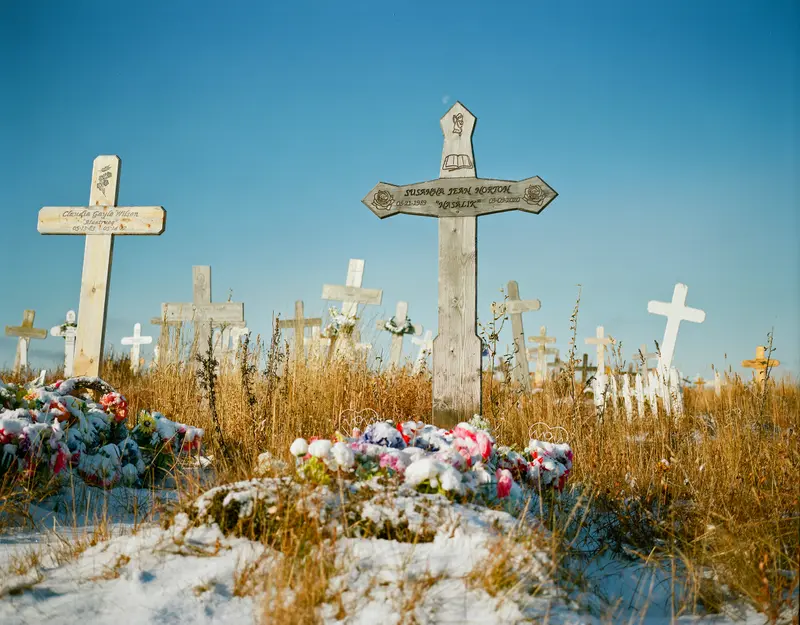 The certificate listed the cause of death as "asphyxiation due to obstruction of airways and compression of neck." The autopsy also found that Norton had suffered "multiple blunt force injuries of head, neck and extremities."
She'd been beaten. But it was the strangling that killed her.
"We're Not Interested"
The homes on the Richards' property are 440 feet from the Kotzebue Police Department lobby. City Hall is even closer. A dozen domed surveillance cameras circle the various government buildings, several within view of the former mayor's house.
One day in June 2021, I knocked on the door of the main house, the first of three visits to the property where police found Kirk and Norton's bodies. "What's this about?" Clement Sr. asked.
Richards was no longer borough mayor at the time, having lost reelection in 2018. Norton's family says the deaths on his property were common knowledge and gave voters pause. Other Kotzebue residents said the election was simply more competitive, with a new crop of respected candidates. When asked about the death of Norton, he said, "I have no comment," and shut the door.
Clement Jr., the middle son, stood outside by a four-wheeler watching the exchange. He said he knew nothing about the case because he was in Anchorage with his father when Norton died. Asked how he thinks she died, Clement Jr. said he didn't know, hasn't thought about it and never asked.
Maybe she killed herself, he volunteered. "It's a common thing in Alaska."
In 2022, Sears, the state's Murdered and Missing Indigenous People investigator, began looking into the case and met with Eden's foster family to learn more. But Sears soon resigned, just five months into the new job. She declined an interview request.
The Daily News and ProPublica on June 14 of this year again attempted to interview Clement Sr. and his sons about the deaths. A man who answered the door at the back house refused to comment and closed the door.
"We're not interested," he said.
Last month, the newsrooms sent certified letters detailing the findings of this story to members of the Richards family; we didn't hear back. The family also didn't respond to letters, phone calls, texts and Facebook messages.
It's all made for a long three years for Mama Sue, a devout Christian and a retired tribal doctor who practiced traditional medicine in Inupiaq villages. She suffered a stroke months after her daughter's death and temporarily lost her ability to speak. On a recent weekday she sat in a formation of half-filled produce boxes, silently packing everything she owns as she prepared for her house to be demolished.
Her family built the home by hand decades earlier. Now a new house is arriving on a barge, and soon Mama Sue will have indoor plumbing and running water for the first time. Builders will place the new home on the same lot, 230 feet from the house where her daughter was found strangled.
As of September, Kotzebue police had never interviewed Mama Sue about the homicide. Nor had they talked to Norton's other relatives and potential witnesses. Nor did they ever talk to neighbors who live between Mama Sue and the former mayor's house, who regularly visit with Amos and Anthony Richards.
The new Kotzebue police chief, Rouse, said he could not comment on Norton's death because it remains an open investigation, although the case is now in the hands of Alaska State Troopers.
In 2021, Lesley Sundberg, who adopted Amos and Sue Sue's child, filed a formal complaint with the state regulators against the Kotzebue Police Department, accusing the department of "dishonesty and untruthfulness."
"One must wonder," Sundberg wrote to the Alaska Police Standards Council in November 2021. "If there are unethical reasons why a Native Alaskan woman, mother of 3, daughter, niece, sister, aunt, and well-known community member's murder, has been swept under the rug." (The executive director for the council said in an email to the newsrooms that the agency "does not investigate complaints of this nature until the involved criminal investigation is completed by the law enforcement agency working on it, so that we do not interfere with the criminal investigation.")
She never received an answer.
Correction
Nov. 11, 2023: This story originally misidentified Rachel Ahrens' current position. She is a superior court judge, not a magistrate.