Secretary of Education: Title IX Changes Are to Protect Kids From 'Elected Bullies'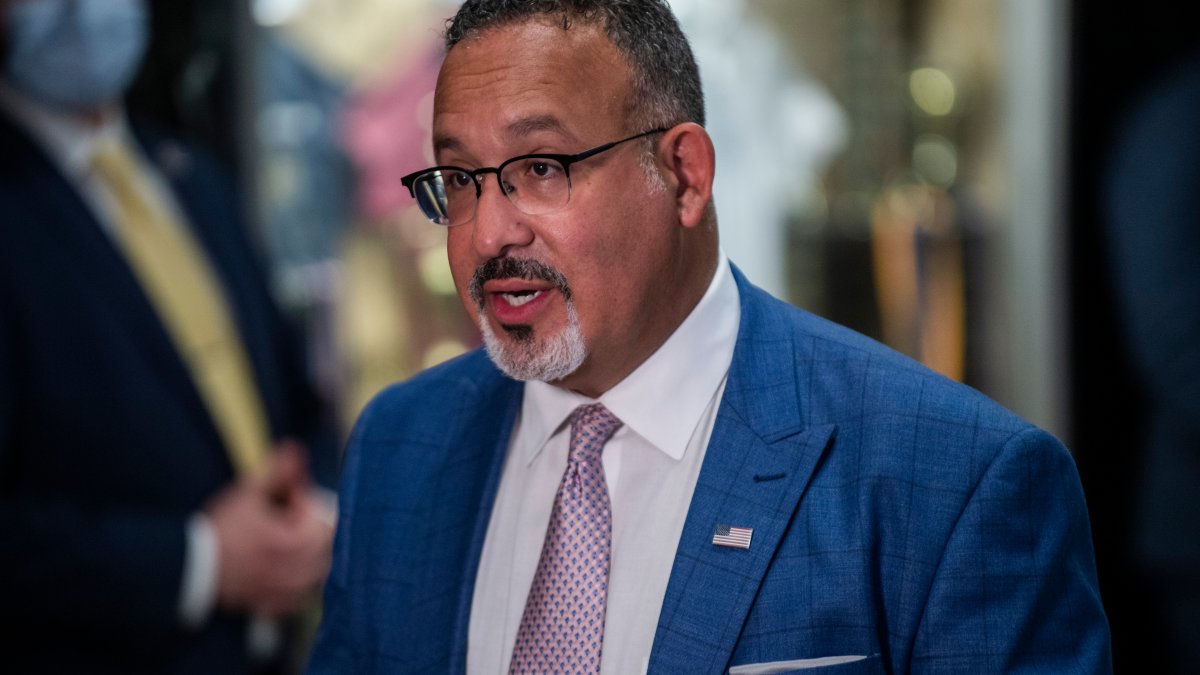 As his agency combs through more than 134,000 public comments regarding proposed changes to the federal civil rights rules for educational institutions known as Title IX, U.S. Secretary of Education Miguel Cardona said reforms are necessary to provide equal access to youth sports for transgender children across the county.
"What we're trying to do is make sure that every student feels welcome, seen and supported in our schools," Cardona said during a wide-ranging interview at Howard University.
Last month, the Department of Education (DOE) and the Biden administration drew criticism from both the left and the right with their new proposal, which would prohibit the blanket bans that more than 20 states have recently passed on transgender girls' participation in girls' sports, but would allow similar bans at the local level when issues of competitive "fairness" or health/injury were at stake.
A DOE spokesperson said the department would review every submitted comment before releasing any final rule change.
Cardona, a lifelong educator who joined President Biden's cabinet in 2021, also discussed how his bilingual background inspired his emphasis on multilingualism and multiculturalism in schools today. And he detailed what he described as governmental "overreach" by some states' governors and legislatures.
Below are abridged transcriptions from the interview:
Cardona: The Title IX proposed rule: I want to make sure all kids can go to school free from discrimination, period. We have elected bullies right now going after kids. Look, it's not a black-and-white issue: It's very difficult; it's very nuanced — and our proposal just ensures that all students have a fair shake.
NBC: Part of the criticism from progressive groups was that you didn't do enough to protect transgender girls and women who want to compete in girls and women's sports. [The proposed changes] allow a carve out that says you can prohibit them at some level, right?
Cardona: Right now, it's a proposal. So I don't want to go too much in the weeds of where it's going to end up. But we're asking for input on what folks think we should be considering. Part of the flexibility is ensuring that we have input from athletic councils…[and] the NCAA, which oversees college sports. We want to listen to their input to see what they think could be done, to make sure that all students are protected and all students have access to sports.
NBC: What do you say to the parent of a schoolgirl who says, "I don't want transgender girls competing against my daughter?"
Cardona: It's a proposal right now; what we want is to make sure our students feel welcome. We're taking into account the students who are transgender, but we're also taking into account perspectives of our students who are competing and are concerned that they might not be able to compete because of the rules. All students should be able to connect in all parts of public schools and athletics, extracurricular activities. Those are part of the experience.
---
NBC: You've called being bilingual a 'superpower.' Explain that.
Cardona: Growing up, knowing Spanish and learning English — and being bilingual/bicultural — gave me access to so much more. I saw so much more. I experienced so much more… it's a superpower because it gives you a skill set — not only in language, but in understanding how [our] differences are positive things, too.
When I was a school principal [and] I saw students develop a second language and maintain their first language, their ability to communicate with more people increased.
There are so many people I know — whether it's Spanish, Mandarin, or other languages — their job opportunities or career opportunities expand tremendously and their ability to navigate more of the world is greater because of their multilingualism, and in many cases, multiculturalism.
So I share with students that what they bring to the table is valuable, and what makes them different makes them special. Because I think for far too long, they feel like they have to assimilate who they are to be accepted. And I want to tell them, "No, you're beautiful the way you are. And having another language is only going to help you in life."
---
---
NBC: How do you resonate with a growing share of Americans who feel that there's too much government in our schools?
Cardona: I don't disagree. We need to leave the politics out of it.
When I was a fourth grade teacher, I wasn't worried about what the secretary of education was doing; I was focused on my children. I understand that, so my job [today] is not to micromanage from D.C.; my job is to make sure they have the resources [and] support, and that we're giving our schools the tools that they need to do their job.
I agree with [keeping the government out of our schools]. I think in the states that are really trying to censor or trying to change laws, the state is overreaching into the classroom. Keep the politics out of it. We've got to let our educators and our parents decide what's best for our kids.
---
Noah Pransky is LX News' national political editor, covering Washington and statehouses across the country. His political and investigative work has been honored with national Murrow, Polk, duPont and Cronkite awards. You can contact him confidentially at [email protected], or on Facebook, Instagram or Twitter.