Virginia Lawmaker Calls for Commission to Study State Universities' History of Uprooting Black Communities
A Virginia state representative has called for creating a legislative commission to examine public universities' uprooting of Black neighborhoods following reports of the racial impacts of one local college's expansion.
Delegate Delores McQuinn said in an interview that a commission is needed to research Black communities that were displaced by Virginia universities and to examine cases of families who say they were forced to sell their homes. Separate legislation sponsored by McQuinn in 2020 established a commission studying the impact of slavery and racial discrimination in Virginia, which is expected to issue a preliminary report in January.
McQuinn also urged colleges to explore potential redress for displaced families, such as free tuition. "Universities should take it upon themselves to revisit and address these inequities and injustice that occurred at monumental levels," said McQuinn, a Democrat who represents part of the city of Richmond and adjoining counties. "Many universities have profited for years based on the injustice that prevented Black families from progressing financially."
Along with McQuinn, other state legislators, a U.S. representative, and municipal and academic leaders said they were troubled by a recent series of articles by ProPublica and the Virginia Center for Investigative Journalism. The series detailed how Virginia universities have dislodged Black families, sometimes through the use of eminent domain, to make room for dormitories, parking lots, laboratories and other facilities, thereby exacerbating the racial gap in home ownership and the loss of Black-owned land.
For example, the city of Newport News seized the core of a middle-class Black community in the early 1960s for the site of what is now Christopher Newport University. Although less expensive locations were available, the Shoe Lane neighborhood was close to an all-white country club and residents were planning to develop more housing for Black families. Newport News leaders decided to erase what they called the "Black spot," according to former CNU President Anthony Santoro. The city paid homeowners 20% less than the property value set by an independent appraiser. After Black families began to resettle around the university, Christopher Newport expanded its boundaries and bought most of the remaining homes. The university used eminent domain as leverage to force at least one homeowner to sell in 2005. That year, the school's governing board approved the tactic's use for three other properties that Christopher Newport said it ultimately acquired without resorting to eminent domain.
In a September message to faculty and staff, Christopher Newport President Bill Kelly acknowledged that the university's progress "has come at a human cost, and we must continue to learn about and understand our complicated history." This "important chapter … is appropriately receiving renewed attention," he added in an apparent reference to our Sept. 5 article.
The school has erected a plaque and an exhibit chronicling the 1960s seizure of the community. In response to ProPublica and VCIJ's reporting, Kelly, a retired rear admiral who became CNU's president this year, will lead a neighborhood walk next week with CNU faculty and students as well as state and city leaders and law enforcement officials, according to university spokesperson Jim Hanchett. Although one purpose of the walk is to explore the university's history, the tour will bypass two of the streets most affected by CNU's expansion into the former Black neighborhood. "The route was chosen because it was the safest option" in terms of traffic and sidewalk width, Hanchett said. "We are listening and learning … so that actions pursued by the university are thoughtful and effective."
As part of its "listening and learning" campaign, the university hosted a panel discussion Wednesday at its fine arts center, where faculty members, local historians and clergy spoke to an overflow crowd about the significance of the campus's location and the effects of expansion on the surrounding community. While acknowledging the event as a first step, associate professor Johnny Finn, chair of the sociology department, said that the university should go beyond symbolic actions and consider "very real and very material things that we can do," such as paying reparations or offering scholarships to descendants of families who were pushed out of their homes.
"I hope that this is indeed a starting point and not an ending point," Finn said.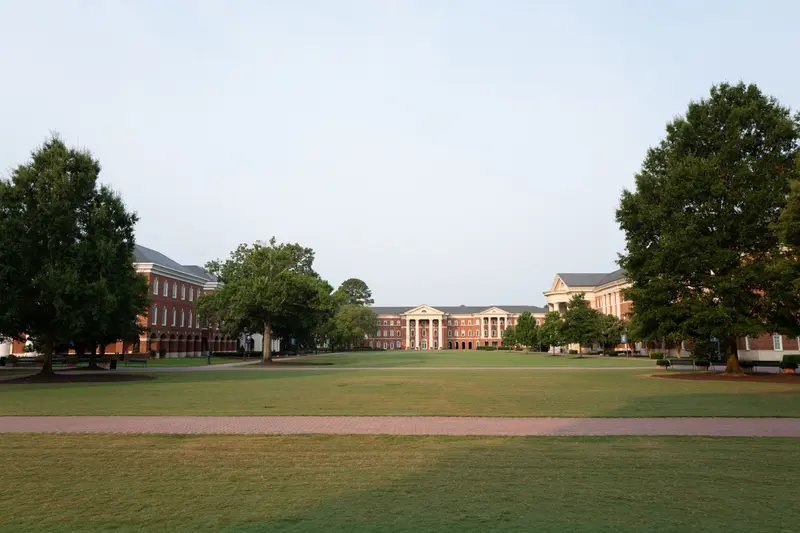 Several other universities in Virginia and elsewhere have sought to make amends for shattering minority communities. Part of the Lamberts Point neighborhood in Norfolk, Virginia, was leveled in the 1960s and 1970s, when it was a predominantly Black neighborhood, to make room for what is now Old Dominion University's main campus.
ODU officials said they have long recognized the need to improve relationships with their neighbors in Lamberts Point. In the past three decades, through community outreach and changes to admissions policies, students of color have increased from 21% to 54% of ODU's enrollment. ODU has awarded $310,000 in scholarships to 137 students from Lamberts Point and nearby neighborhoods since 1999, according to university records. The school also has run free summer camps for Lamberts Point children since 1992 and offers seasonal jobs to high school students.
The University of Virginia also has acknowledged its role in displacing Black residents, appointing two executive commissions within the last decade to study its historical support for racist policies. The school's president, Jim Ryan, set a goal of building up to 1,500 affordable homes and apartments by 2030 for Charlottesville residents on property owned by the university or its affiliates.
Some public and private universities outside Virginia are directing scholarships to residents of communities that were diminished by campus expansions. The bustling, largely Hispanic neighborhood of Auraria in Denver was chosen in the early 1970s as the site for a satellite campus of the University of Colorado. An urban renewal project razed all but 13 cottages and a grocery store, scattering 343 families. In the 1980s, the University of Colorado at Denver set up a Displaced Aurarian Scholarship program to eliminate fees and tuition for students from families who lived there between 1955 and 1973. Last year, the university expanded the program to include all future direct descendants of the displaced families. Overall, the school has handed out more than 600 Aurarian scholarships worth $3.4 million.
Nolbert Chavez, an administrator at the University of Colorado at Denver and former Colorado state lawmaker, said community lobbying helped secure an additional $2 million in scholarship funds from the state legislature in 2022. The Aurarian community's struggle for recognition is similar to that of other Black and Hispanic neighborhoods displaced by universities across the country, he said.
"The thread is all the same — the communities were all traumatized," Chavez said. "Until that is dealt with, these communities can't move on."
One such community is seeking financial reparations. About 50 families in Linnentown, a small Black neighborhood in Athens, Georgia, were displaced when their homes were acquired, mainly through eminent domain, and razed between 1962 and 1966 to clear space for University of Georgia dormitories. The financial losses caused by the seizures cost Black families $5 million in current dollars, including $4 million in underpayments and $1 million in foregone increases in property values, according to a study by University of Georgia researchers.
In 2021, commissioners in Athens-Clarke County, where the school is located, passed a resolution supporting redress for Linnentown families through economic development projects in underserved communities. Commissioners also earmarked $2.5 million to build affordable housing and a community center.
Linnentown families who say they were paid less than fair value for their properties have sought compensation from the university. But a university spokesperson said the Georgia Constitution prohibits the school from using state funds for voluntary payments to third parties.
"However, the university leads a wide range of successful initiatives and partnerships that contribute to UGA's nearly $500 million economic impact on the Athens-Clarke County community," spokesperson Greg Trevor said. The school dedicates 10 need-based scholarships to residents of the county, he said.
In an interview with VCIJ, Newport News Councilperson Tina Vick raised the possibility of reparations for families uprooted by the establishment and expansion of Christopher Newport University. Scholarships for their descendants aren't adequate compensation, she said. "If somebody disrupted my whole family, business and wealth, free tuition would not be enough for me." She said the council has informally discussed the ProPublica/VCIJ articles but hasn't decided what, if anything, to do.
State Delegate Jeion Ward, a Christopher Newport graduate whose General Assembly district includes part of Newport News, said Virginia universities need to enhance their investments in Black communities through scholarships, affordable housing initiatives and development programs. The treatment of Black property owners by universities highlights "how the loss of generational wealth has been systemically sustained in our society," she said.
"It's crucial for both our community and the universities involved to acknowledge and respect the sacrifices of the Black property owners who were unjustly evicted from their homes and businesses," said Ward, a Democrat.
Rep. Bobby Scott, who has represented Newport News in the U.S. House of Representatives for 30 years, said that the seizure of Shoe Lane was typical of "some of the practices and policies intended to make life more difficult for Black Americans" during the Jim Crow era. "It is neither shocking nor surprising that one of the only thriving middle class Black neighborhoods in Newport News was selected for this treatment," he said.
Scott added that he supported the Biden administration's infrastructure bill, which passed in 2021 and included a $1 billion pool to be used for reconnecting predominantly minority communities that have been intentionally divided by major highway construction. Public and private universities are eligible for the grants, which require local matching funds.
"We cannot undo all the harm that has been done, but we can do more to ensure current policies are implemented with equity," said Scott.
McQuinn, the state delegate who called for a commission to explore the racial impact of university expansions, was reelected this week. She said she hopes that "these efforts will result in solution oriented steps towards addressing past inequities."